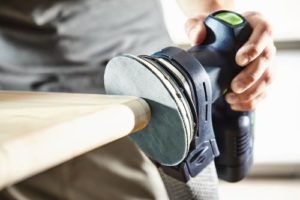 Jason Brown Wood Floors is proud to offer the full range
of Festool tools
to homeowners and contractors who want to do something completely different
with their home improvement projects. If you're in need of abrasive tools, then
you can put your trust in Festool products and the knowledge of the experts
here at Jason Brown. Here is a closer look at the line of Festool abrasives
that we offer.
Rotex RO 90 Rubin 2
The Rotex TO 90 Rubin 2 works best with natural wood. It
also works well with different types of wood composites and veneers. If you're
looking to minimize the amount of wood fibers produced by abrasive tools, then
the Rotex is the one you want. Depending on the type of hardwood floor that you
have, you should choose this for oak, maple, pine, fir, ebony, and teak.
Granat
Of all of the Festool abrasive tools, the Granat has been
the one that has been in service the longest. It's versatile enough to help you
get the job done, no matter what you're working with: it could be wood,
paint, clear coats, plastics, or even acrylics and composites.
Saphir
The toughest jobs call for the best possible tools. For
coatings and finishes that won't come off any other way, then you'll need one
of the Saphir abrasives. Dealing with aluminum oxide, synthetic resin, or
semi-closed coated wood floors has never been this easy.
Platin 2
Do your floors have
high-gloss finishes? Then you will need to use the Platin 2 set of abrasives.
Use some pumice and rottenstone to polish your floors even more. Then use the
feather auto-body fillers to help get ready for a new coat of paint if you need
it. You'll be able to deal with silicon carbide, synthetic resin, and open
coated finishes.
Festool Tools are Now Available from Jason Brown Wood Floors!
For over 90 years, Festool has
been crafting quality tools for all types of jobs, and those fantastic products
are now available from Jason Brown Wood Floors! Each week, we will feature a
different product on our blog so that you can learn more about them too!
Festool has all of the abrasive tools that you might need,
especially for sanding down newly refinished floors. Whether you need an
abrasive tool to make sure that the planks of the floor are an even width or
smoothness, or you need some dust extractors, we can help you out. Sometimes
you need the right accessories for the next flooring project you want to
tackle. Not to worry, because we offer those products as well!
Hardwood Flooring Installation and Maintenance from Jason Brown Wood Floors
At Jason Brown Wood Floors, our commitment to quality
installation is clear in all that we do, which is why our customers
consistently rate us as one of the top contractors in the region. We have been
awarded Baltimore Magazine's Best of Baltimore Award 4 times and have been proudly
serving the Baltimore Area for over 16 years. If you're ready to speak with
someone about your hardwood flooring project, we want to hear from you! Contact
us at 410-668-9131 or send us a message here.
Keep up with us on Facebook, Twitter, Google+, Pinterest, Houzz,
and YouTube and
check out our blog for more news and information!