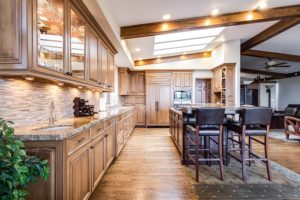 Winter can be rough on your hardwood
floors. Road salt, mud, and snow and ice can be tracked into your
home whether or not you know it is happening. All of this activity can take a
toll on your wood floors. They'll look old and faded, even if they aren't. Here
are some ways to make that problem go away.
Refresh Your Hardwood Floors
The first thing you can try doing is to refresh your
hardwood floors. This process involves refinishing
your floors. If you haven't done it since this time last year, then you should
get on it. However, sometimes adding a new layer of coating can make all the
difference you need. Adding a new layer of coating protects your floors, and it
doesn't take as long as the refinishing process will. Either way, your floors
will already start to look better.
Shine Them Up
Another way to make a change is to give your floors some
more shine. You can do this by taking the time to clean your floors.
You need to be careful, though, as you don't want to get carried away and end
up damaging your hardwood by using the wrong cleaners. Wax compounds can get
rid of dirt, while polyurethane-coated floors will need vinegar and water to clean
them.
Adjust Temperature and Humidity
You always want to be as comfortable as possible in your
home. Even so, this might mean adjusting the temperature and humidity levels in
your home. While you don't want it to be too hot or humid in your home, you also
don't want to be freezing or feel too dry in the winter time. This is a fine
line to walk, especially when it comes to your hardwood floors. After all,
excessive moisture damage can take away that beautiful shine.
Protect Your Investment
Are you planning on rearranging some of the furniture in
your home? Or getting ready to move out? In both cases, this means moving the
furniture around on vulnerable hardwood flooring. To avoid leaving unsightly
scratches and gouges, use floor protectors. Doing this can help you prevent any
dents forming on your floors, especially if you're not sure how long it will
take to move the furniture around.
Festool Tools are Now Available from Jason Brown Wood Floors!
For over
90 years, Festool has
been crafting quality tools for all types of jobs, and those amazing products
are now available from Jason Brown Wood Floors! Each week, we will feature a
different product on our blog so that you can learn more about them too!
Festool has all of the dust extraction tools that you might
need, especially after sanding. A mobile boom arm might be what you need, or a
pre-separator could be the key to making your floors look wonderful again.
Hardwood Flooring Installation and Maintenance from Jason Brown Wood Floors
At Jason Brown Wood Floors, our commitment to
quality installation is clear in all that we do, which is why our customers
consistently rate us as one of the top contractors in the region. We have been
awarded Baltimore Magazine's Best of Baltimore Award 4 times and have been
proudly serving the Baltimore Area for over 16 years. If you're ready to speak
with someone about your hardwood flooring project, we want to hear from you!
Contact us at 410-668-9131 or send us a message here.
Keep up with us
on Facebook, Twitter, Google+, Pinterest, Houzz, and YouTube and check out our blog for more news and
information!