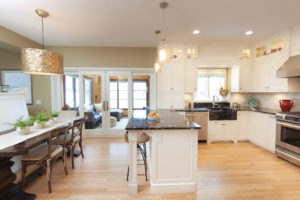 Are you looking to do something different with your kitchen
this year? You should consider upgrading
hardwood flooring! Hardwood is a beautiful, durable and versatile addition to
any kitchen.
Great Design
When you're doing your research for how to redo your
kitchen, you will notice that hardwood flooring is a popular option. It can
help give your kitchen a warmer feeling, which is definitely appreciated during
the chilly days and nights of winter. This alone makes it better than other
potential flooring types such as tile, linoleum, and vinyl. The latest trends
have been moving towards the kitchen being open, and as such, combining
different types of flooring is harder to do.
It Will Last
Another reason to choose hardwood flooring is that it will
last. One major concern when it comes to putting wood floors in a kitchen is
all of the water and plumbing that is present. How will all that moisture
affect your floors? Luckily, by using rugs and mats near sources of water, you
can prevent water damage to your floors. Plus, the only place in the kitchen
where the flooring won't be installed is around the dishwasher. This provides
another layer of protection against potential water damage.
Unexpected Benefits
Finally, installing hardwood
flooring into your kitchen has some unexpected benefits as well. When your
floors are made of tile or ceramic, these materials can cause you pain,
especially in your knees and back. You'll also need to spend time cleaning up the grout. Both of
these issues are no longer a problem when you install hardwood flooring. Plus,
it can also help increase your home's value.
Festool Tools are Now Available from Jason Brown Wood Floors!
For over 90 years, Festool has been crafting quality
tools for all types of jobs, and those amazing products are now available from
Jason Brown Wood Floors! Each week, we will feature a different product on our
blog so that you can learn more about them too!
Festool's batteries are extremely versatile! Believe it or
not, there are just FOUR different batteries needed to power all of those
products! This is because they are interchangeable across different tools. As
long as the voltage and power requirements match up, you're good to go. This
means you'll have far less downtime while waiting for things to charge and
you'll be able to complete projects much faster!
Hardwood Flooring Installation and Maintenance from Jason Brown Wood Floors
At Jason Brown Wood Floors, our commitment to quality installation is clear in all that we do, which is why our customers consistently rate us as one of the top contractors in the region. We have been awarded Baltimore Magazine's Best of Baltimore Award 4 times and have been proudly serving the Baltimore Area for over 16 years. If you're ready to speak with someone about your hardwood flooring project, we want to hear from you! Contact us at 410-668-9131 or send us a message here.
Keep up with us on Facebook, Twitter, Google+, Pinterest, Houzz, and YouTube and check out our blog
for more news and information!