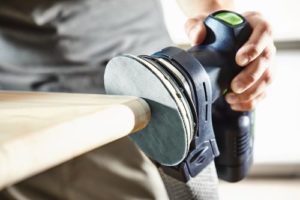 For over 90 years, Festool has been perfecting their products so that contractors and industrious homeowners can get the best results every time. Their meticulous care and attention to detail is what makes Festool products the best on the market. At Jason Brown Wood Floors, we strive to deliver the best flooring to our valued customers, so it only seemed fitting that the best tools would produce the best floors. That's why we now sell Festool products.
Storing Your Festool Products
Festool wants to make sure that your tools stay in order and
protected when not in use, so they've developed storage solutions that they
call Systainers and Sortainers. Your Systainer will hold all of your Festool
products safe and sound until you're ready to use them again. A Sortainer is
slightly different from the Systainer, because this system will also help you
keep track of all the small things you need on jobs like nuts, bolts,
fasteners, and whatever other small accessories are needed.
Exceptional Batteries for Exceptional Tools
Festool knows that having different batteries for every tool
drastically increases downtime due to the need to charge so often. That's why
they've standardized their batteries for handheld tools. You can use 1 type of
battery to power multiple different devices. So, if you purchase a charger and
a few extra batteries, you will be able to finish your projects in a much more
timely manner.
The Festool Warranty
When you purchase your Festool tools, you have 30 days to
try them out and make sure they are up to your standards. If for any reason you
aren't totally satisfied, you can return them to the company for a full refund.
Every Festool product comes with a comprehensive warranty of
up to 36 months. In the first 3 years of owning your Festool tools, the company
will pay for shipping to send a tool for repair and with a 48-hour average
turnaround time on most repairs you will be able to get back to work as soon as
possible.
Hardwood Flooring Installation and Maintenance from Jason Brown Wood Floors
At Jason Brown Wood Floors, our commitment to quality
installation is clear in all that we do, which is why our customers
consistently rate us as one of the top contractors in the region. We have been
awarded Baltimore Magazine's Best of Baltimore Award 4 times and have been
proudly serving the Baltimore Area for over 16 years. If you're ready to speak
with someone about your hardwood flooring project, we want to hear from you!
Contact us at 410-668-9131 or send us a message here.
Keep up with us on Facebook, Twitter, Google+, Pinterest, Houzz,
and YouTube and
check out our blog for more news and information!