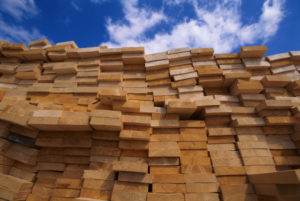 You can look at your gorgeous solid hardwood flooring every
day. Have you ever wondered what happens before the floors are installed? There
is a significant amount of planning and work that goes on behind the scenes to
turn trees into hardwood flooring. Here is a brief overview of that process.
In The Forest
Nowadays, the vast majority of lumber comes from carefully
managed forests. Different companies harvest lumber in different ways, but the
four main methods are selection, group selection, shelter wood, or
clear-cutting. Once the trees are cut, special equipment is used to retrieve
the logs from the forest. It is then loaded onto transport trucks and taken to
the sawmill to begin production.
Milling and Grading
Once the logs arrive at the sawmill, they are de-barked. The
machine grips either end of the log and spins it while a grinding tool removes
the bark from all sides. Next, they move through a scanner that will select the
best side for the first cut, whichever will be able to produce the most lumber,
and then the whole log will be cut into long slices. These slices are then
graded. The grade of the wood will determine its next step. Only certain,
higher grades are used for hardwood flooring.
Off to the Flooring Mill
Now that the lumber has been separated by grade and species,
it is sent off to the flooring mill. Once there, the wood needs to be totally
dried out. This can be via air drying or in a kiln that is kept between 100 and
108 degrees Fahrenheit. Once the pieces are dried and cooled, they are ready to
send for cutting. As the planks are cut, graders sort the boards by grade and
bundle them to be shipped off to distributors to be sold and installed in their
new homes.
Festool Tools are Now Available from Jason Brown Wood Floors!
For over 90 years, Festool has
been crafting quality tools for all types of jobs, and those amazing products
are now available from Jason Brown Wood Floors! Each week, we will feature a
different product on our blog so that you can learn more about them too!
Festool has all of the sanding tools and abrasives that you
need, no matter the size of your project. From handheld sanding blocks to
advanced planning tools, you can get all of your sanding tools and abrasives
from Jason Brown Wood Floors.
Hardwood Flooring Installation and Maintenance from Jason Brown Wood Floors
At Jason Brown Wood Floors, our commitment to quality
installation is clear in all that we do, which is why our customers
consistently rate us as one of the top contractors in the region. We have been
awarded Baltimore Magazine's Best of Baltimore Award 4 times and have been
proudly serving the Baltimore Area for over 16 years. If you're ready to speak
with someone about your hardwood flooring project, we want to hear from you!
Contact us at 410-668-9131 or send us a message here.
Keep up with us on Facebook, Twitter, Google+, Pinterest, Houzz,
and YouTube and
check out our blog for more news and information!