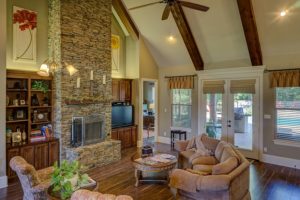 Your old house only gets older with each passing year.
If you were never able to remodel or renovate during the last year, then it's
time to make a change. Here are some of the ways you can give your home a brand
new look using hardwood floors.
Refinish Existing Floors
It could be that the hardwood floors you already have are
looking worn out. If this is the case, then all you need to do is to refinish
them. The refinishing process makes them look as though they were just recently
installed, when you could have had them for years. Refinishing the floors is a
good idea to start your year off with a new beginning. You can get rid of any
unsightly scratches, and save money on future flooring changes. Plus, you can
change the color of the floorboards, re-stain them, and restore some of their
shine.
Replace the Floors
Sometimes though, your flooring could get dull. Let's say
you hard engineered hardwood, but you want natural wood such as oak or cedar
instead. If so, then it's time to replace the floors. You can also choose to
replace carpet or tile flooring with hardwood floors. No matter which room
you want to add the hardwood too, you can help open up the room and make it
feel different than it did before, especially if you have grown tired of
vacuuming the carpet over and over again.
Festool Tools are Now Available from Jason Brown Wood Floors!
For over 90 years, Festool has been crafting
quality tools for all types of jobs, and those amazing products are now
available from Jason Brown Wood Floors! Each week, we will feature a different
product on our blog so that you can learn more about them too!
Festool's drills and screwdrivers can make all the
difference! We offer more than ten kinds of Festool drill and screwdriver
items. Whether you need a cordless drill, FastFix attachments, or Centrotec
screwdrivers, you can choose what you need to help get the job done right!
Hardwood Flooring Installation and Maintenance from Jason Brown Wood Floors
At Jason Brown Wood Floors, our commitment to quality
installation is clear in all that we do, which is why our customers
consistently rate us as one of the top contractors in the region. We have been
awarded Baltimore Magazine's Best of Baltimore Award 4 times and have been
proudly serving the Baltimore Area for over 16 years. If you're ready to speak
with someone about your hardwood flooring project, we want to hear from you!
Contact us at 410-668-9131 or send us a message here.
Keep up with us on Facebook, Twitter, Google+, Pinterest, Houzz, and YouTube and check out our
blog for more news and information!