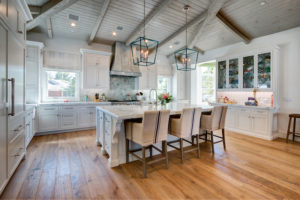 One of the best ways to make your home look more inviting is
to add hardwood
floors. These floors are so versatile that you can use them almost
anywhere inside your home. However, you might be wondering how to make the
floors themselves stand out. Here are some tips for doing that.
Make the Most of Doorways
You probably don't think that the front door of your home
could affect how your floors
look. But the door and the doorway do in fact make a difference. You can leave
the foyer as simple as possible to emphasize the look of the hardwood. When you
have patterns on a hardwood floor, the patterns are even more noticeable when
they are left alone as the focus of attention.
Improve the Dining Room
Another good place to put patterned hardwood flooring
is in the dining room. Instead of covering up your hardwood floors with a rug,
create a patterned floor that meshes with the furniture. That way, you won't
take away from any of the aesthetic appeal and you can use a smaller rug that
can still protect the floors against scratches and dents. The dining room
doesn't have to be the only special room that gets a beautiful hardwood floor
either – you can use hardwood floors in game rooms, music rooms, and exercise
rooms.
Follow the Flooring
Instead of relying on plain hardwood floors throughout the
home, you can use different patterns to help indicate which room you are about
to walk into. Even something as simple as changing the direction that the
planks are laid in can create a more visually interesting look.
Festool Tools are Now Available from Jason Brown Wood Floors!
For over 90 years, Festool has been crafting
quality tools for all types of jobs, and those amazing products are now
available from Jason Brown Wood Floors! Each week, we will feature a different
product on our blog so that you can learn more about them too!
Festool has all of the edge banding tools that you might
need, especially after installing patterned floors. Whether you need an edge
bander to make sure that the edges of the floor are smooth enough, or you need
some adhesive, we can help you out. Sometimes you need the right accessories
for your next edge banding project. We offer those products as well!
Hardwood Flooring Installation and Maintenance from Jason Brown Wood Floors
At Jason Brown Wood Floors, our commitment to quality
installation is clear in all that we do, which is why our customers
consistently rate us as one of the top contractors in the region. We have been
awarded Baltimore Magazine's Best of Baltimore Award 4 times and have been proudly
serving the Baltimore Area for over 16 years. If you're ready to speak with
someone about your hardwood flooring project, we want to hear from you! Contact
us at 410-668-9131 or send us a message here.
Keep up with us on Facebook, Twitter, Google+, Pinterest, Houzz, and YouTube and check out our blog
for more news and information!