When your hardwood floors start to show their age, you will have a choice to make. That decision is whether or not you should refinish the floors, or attempt to have them replaced entirely. In some cases, maintaining your hardwood floors is no longer feasible, so here are some of the factors you must consider when it is time to maintain your hardwood floors.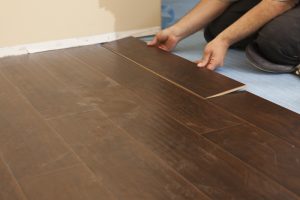 Think About Aesthetics
Take a minute to think about what your floors look like right now. Old-fashioned wood flooring might be timeless or out of time. It depends on the room in which they were installed all those years ago. Then it depends on the species of wood you used – oak and maple, for example, behave differently. Are there geometric patterns or mandalas etched into the wood? That makes a difference too. Plus, you will have to think about the directions in which your planks run.
Think About Damage Levels
Refinishing can make a world of difference. When you want to make your floors look brand new, sometimes that is all you need to do. Then again, if your floors are too damaged, then you will be better off getting them replaced. When this is the case, don't try to replace the floors on your own; instead, have a flooring professional do it for you. That's because structural damage on your floors cannot be undone through refinishing. Neither can the floors moving. If the boards rattle or jostle too much then the existing problems will only get worse. The gaps in the floorboards that you were trying to hide will only get wider than they already were. warping , chipping, buckling, stainings (and not in the protective sense) and damage from pests such as termites will also make your hardwood floors unstable and unsuitable for you and your family.
Festool Tools are Now Available from Jason Brown Wood Floors!
For over 90 years, Festool has been crafting quality tools for all types of jobs, and those fantastic products are now available from Jason Brown Wood Floors! Each week, we will feature a different product on our blog so that you can learn more about them too!
When you're making cuts, you need them to stay straight. No matter what material you're cutting through, Festool's guide systems and saw accessories will help you make straight, clean cuts every single time.
Hardwood Flooring Installation and Maintenance from Jason Brown Wood Floors
At Jason Brown Wood Floors, our commitment to quality installation is clear in all that we do, which is why our customers consistently rate us as one of the top contractors in the region. We have been awarded Baltimore Magazine's Best of Baltimore Award 4 times and have been proudly serving the Baltimore Area for over 16 years. If you're ready to speak with someone about your hardwood flooring project, we want to hear from you! Contact us at 410-668-9131 or send us a message here.
Keep up with us on Facebook, Twitter, Pinterest, Houzz, and YouTube and check out our blog for more news and information!