Half of 2019 is over already, but that doesn't mean the year is completely over yet. There is still time to explore these trends and find out if they suit your home. What can your hardwood flooring do for you? It's time to find that out.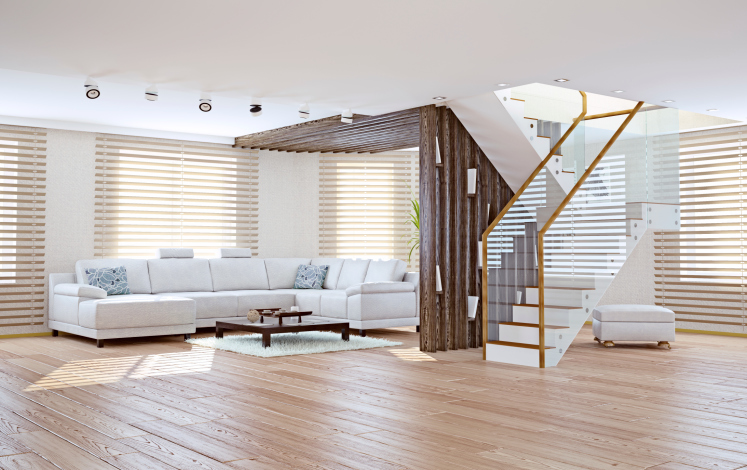 Lighter Floors
Roughly ten years ago, many homeowners chose to have darker hardwood floors installed in their homes. Now, though, times have begun to change. Lighter shades of hardwood flooring have come back into style, and choosing white oak has never been more popular. Part of the reason for this is that it readily accepts different types of stain. That isn't to say that your white oak hardwood flooring will stain quickly and turn ugly, it just means that painting and staining is much easier than before. Plus, when compared to the look of oak hardwood floors, it can open a room up in unexpected and breathtaking ways.
A Combination
Take a minute to think about how the hardwood floors in your home look right now. They're probably a shade of brown with hints of white and red. But did you know there are other color combinations that are trending this year? Experiment with the blend of grey and beige and see what you get. It might surprise you how much you like this new look for your hardwood floors.
Wire Brushing
Changing the texture of the hardwood flooring is another trendy idea that isn't likely to go out of style any time. The reason for this is that the softer spots are brushed down. Hardened grains are all that is left on the surface of the wood, making it easier to hide signs of damage such as scratches, dings, and dents.
Festool Tools are Now Available from Jason Brown Wood Floors!
For over 90 years, Festool has been crafting quality tools for all types of jobs, and those fantastic products are now available from Jason Brown Wood Floors! Each week, we will feature a different product on our blog so that you can learn more about them too!
When you're making cuts, you need them to stay straight. No matter what material you're cutting through, Festool's guide systems and saw accessories will help you make straight, clean cuts every single time.
Hardwood Flooring Installation and Maintenance from Jason Brown Wood Floors
At Jason Brown Wood Floors, our commitment to quality installation is clear in all that we do, which is why our customers consistently rate us as one of the top contractors in the region. We have been awarded Baltimore Magazine's Best of Baltimore Award 4 times and have been proudly serving the Baltimore Area for over 16 years. If you're ready to speak with someone about your hardwood flooring project, we want to hear from you! Contact us at 410-668-9131 or send us a message here.
Keep up with us on Facebook, Twitter, Pinterest, Houzz, and YouTube and check out our blog for more news and information!