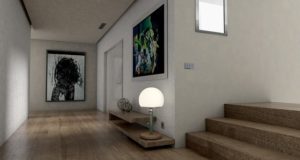 Replacing the hardwood floors in your home can
be an exciting project. This is especially true if they are worn out and refinishing or resurfacing won't make much of
an aesthetic difference.
Solid Hardwood Floors
One of your options is to choose a solid
hardwood floor. These panels are made from boards of lumber. Ash, maple, and
oak are three of the most popular types of solid hardwood floors. But you can
also choose from cherry, lapacho, and tigerwood, all of which come from South
America. Sanding and refinishing will restore how beautiful it looks, year
after year. However, despite how gorgeous and durable these floors are, they
are not the best choices for areas with levels of moisture, such as kitchens, bathrooms, laundry rooms, and
basements.
Engineered Hardwood Floors
An alternative choice is to install engineered
hardwood floors. If your old hardwood floor was also engineered, then it
could be time to replace it. Multiple layers of hardwood are glued together
into what are called "plies." Engineered hardwood is more stable, and more
resistant to water damage. That's why you can place these floors in rooms with
higher levels of moisture and not have to worry about what will happen to them.
How It Looks
The difference maker might come down to how
much you like the look of one over the other. Distressed hardwood flooring
could be a great fit, but so could traditional hardwood floors. It all depends
on the type of aesthetic you want your home to achieve.
Festool Tools are Now Available
from Jason Brown Wood Floors!
For over 90 years, Festool has been crafting quality
tools for all types of jobs, and those fantastic products are now available
from Jason Brown Wood Floors! Each week, we will feature a different product on
our blog so that you can learn more about them too!
When you're working on home
remodeling projects, there can be a lot of dust. Whether you're cutting
hardwood, drywall, or something else, you don't want all that dust swirling
around your home. That's where Festool's line of dust extractors can help! They
are even equipped with HEPA filters that will help to clean the air as it goes
through the machine!
Hardwood Flooring Installation
and Maintenance from Jason Brown Wood Floors
At Jason Brown Wood Floors,
our commitment to quality installation is clear in all that we do, which is why
our customers consistently rate us as one of the top contractors in the region.
We have been awarded Baltimore Magazine's Best of Baltimore Award 4 times and
have been proudly serving the Baltimore Area for over 16 years. If you're ready
to speak with someone about your hardwood flooring project, we want to hear
from you! Contact us at 410-668-9131 or send us a message here.
Keep up with us on Facebook, Twitter, Pinterest, Houzz, and YouTube and check out our blog for
more news and information!