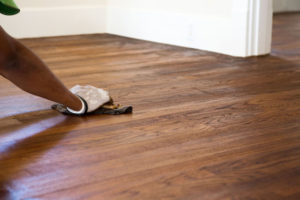 Your hardwood floors are a beautiful addition to your home.
Like anything else, they will need regular maintenance in order to remain
beautiful. Dings, scratches, and small discolorations don't necessarily mean
the floor should be refinished
right away, but at the same time, a floor that looks flawless to you may
actually need some work. If you have hardwood floors in your home, you should
know how to tell when they need to be refinished so that they don't incur
permanent damage from lack of proper maintenance. These tests will help you
determine if it is time to call in the experts at Jason Brown Wood Floors to
refinish your hardwood floors.
Testing with Water
Start by finding an area of the hardwood that sees the most
foot traffic in a given day. The high-traffic areas are more likely to need
refinishing sooner due to the increased foot traffic. Then, pour about a
tablespoon of water onto the area. If the finish is okay, the water will just
bead into droplets and stay on top of the flooring. However, if the water
starts to slowly seep into the wood, the finish is too thin and should be
re-done. The faster the water soaks in, the more urgently the floor will need
to be refinished. Once you're done testing an area, be sure to wipe up the
water right away to prevent further damage.
Refinish or Replace?
Another way to test your wood floors is by using a
business card. Find two planks that look like they may be separating from one
another. Slide the business card into the slot as far as you can and use a
pencil to mark the card where the surface of the floor is. Then, use a ruler to
measure the crack. If it is less than 3/4 inch, the floor may need to be
replaced. Since the refinishing process requires sanding away the old finish,
the planks need to have some depth left to them. If you suspect your flooring
needs to be refinished or replaced, call Jason Brown Wood Floors today!
Festool Tools are Now Available from Jason Brown Wood Floors!
For over 90 years, Festool has
been crafting quality tools for all types of jobs, and those fantastic products
are now available from Jason Brown Wood Floors! Each week, we will feature a
different product on our blog so that you can learn more about them too!
When you're working on home remodeling projects, there can
be a lot of dust. Whether you're cutting hardwood, drywall, or something else,
you don't want all that dust swirling around your home. That's where Festool's
line of dust extractors can help! They are even equipped with HEPA filters that
will help to clean the air as it goes through the machine!
Hardwood Flooring Installation and Maintenance from Jason Brown Wood Floors
At Jason Brown Wood Floors, our commitment to quality
installation is clear in all that we do, which is why our customers
consistently rate us as one of the top contractors in the region. We have been
awarded Baltimore Magazine's Best of Baltimore Award 4 times and have been
proudly serving the Baltimore Area for over 16 years. If you're ready to speak
with someone about your hardwood flooring project, we want to hear from you!
Contact us at 410-668-9131 or send us a message here.
Keep up with us on Facebook, Twitter, Pinterest, Houzz,
and YouTube and
check out our blog for more news and information!