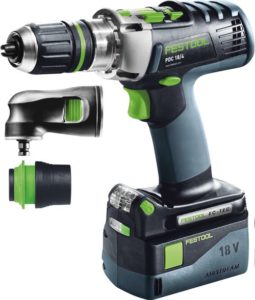 If you want to try installing your own
hardwood floors, you can always do it. While it is much easier to hire the
professionals to come and do it for you, if you think you've got the right
skills, then you'll need the right tools for the job. That's where Festool tools
enter the picture, and you can't go wrong with their selection of drills and
screwdrivers.
Drills
When you want to drill something, you need to
know what you can use. One option is to use the CENTROTEC drilling tools we
offer. We have centering bits, deburring countersinks, drill bits with depth
stop 3, standard drill bits, drill countersinks with depth stop 1, depth stop
5, stop diameter of 4.0, and HSS twist drills. We also have various drilling
accessories. However, CENTROTEC isn't the only type of brand we can provide you
with. You can also choose from cordless drills, cordless hammer drills, and
cordless percussion drills.
Screwdrivers
Then again, you might need a screwdriver for
the task at hand. Instead of relying on manual screwdrivers that could slow
down the process, trying using their power tool cousins. We've got accessories
for drywall screwdrivers along with the actual screwdrivers that you'll need. FastFix attachments such as the TI-FX adapter,
Angle Attachment AU-43 FFP, Angle Attachment DD-AS, Angle Attachment XS-AS, and
Depth Stop Chuck DD-DC can make your life much easier. You can also use the
Eccentric Chuck DD-ES if you need it.
Festool Tools are Now Available
from Jason Brown Wood Floors!
For over 90 years, Festool has been crafting quality tools for
all types of jobs, and those fantastic products are now available from Jason
Brown Wood Floors! Each week, we will feature a different product on our blog
so that you can learn more about them too!
Festool has all of the drill and screwdriver
technologies that you might need. Whether you need a new bit for your drill or
you're not sure what accessories you need for it, we can help you out. Sometimes
you need the right drills, screwdrivers, batteries, and chargers for the next project
you want to tackle. Not to worry, because we offer those products as well!
Starting Monday, April 1, 2019 we will have
the MW1000 Mobile Workshop and many other new choices available for purchase at
our conveniently located Belair, Maryland showroom. Come and see us today!
Hardwood Flooring Installation
and Maintenance from Jason Brown Wood Floors
At Jason Brown Wood Floors, our commitment to
quality installation is clear in all that we do, which is why our customers
consistently rate us as one of the top contractors in the region. We have been
awarded Baltimore Magazine's Best of Baltimore Award 4 times and have been
proudly serving the Baltimore Area for over 16 years. If you're ready to speak
with someone about your hardwood flooring project, we want to hear from you!
Contact us at 410-668-9131 or send us a message here.
Keep up with us on Facebook, Twitter,
Pinterest,
Houzz, and YouTube and check out our blog for more news
and information!