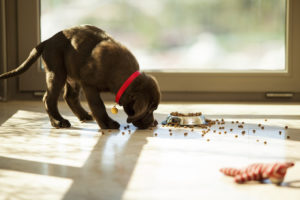 Your pets are part of your family.
As much as you love to see them run around on your floors, you
might wince when they're done. That's because you've noticed the unsightly
scratches, dings, and dents they left behind. Here are some simple tips for
keeping your hardwood floors safe when you have pets.
Pick a Different
Stain
The first thing you will want to
think about doing is picking a different stain for your hardwood
floors. Lighter stains are particularly good for this purpose. That's
because they do a better job of hiding any possible scratches that are on the
floor. The lighter stain is also more effective at hiding the dust and other
debris that is on the floor. It also depends on the color of your furry friend
– depending on what color your pet is, you could choose that stain!
Don't Go Glossy
A glossy finish looks good. It
looks so good that it can help boost the value of your home. So if you're
looking to sell your home and move any time soon, that's good news. But all the
same, if you have pets, you shouldn't choose glossy hardwood floors. Satin and
matte do much better jobs hiding dents and other signs of damage.
Plus, you might be leaving damage on your hardwood that you are blaming on your
pets – don't do that! High heels, rocks in shoes, and moving furniture around
can cause more problems than you might think.
Trim Toenails
One last piece of advice is to trim
the toenails on your pet. This sounds silly, but it works. Dogs should have
their nails trimmed every two months or so. Unfortunately, trimming the claws
on your cat is a bad idea, so it isn't much you can do in that respect. If you
hear clicking when your dog walks on your hardwood floor, then it's time for a
trim.
Festool Tools are
Now Available from Jason Brown Wood Floors!
For over 90 years, Festool has been crafting quality tools
for all types of jobs, and those fantastic products are now available from
Jason Brown Wood Floors! Each week, we will feature a different product on our
blog so that you can learn more about them too!
While you're cutting, sanding, and drilling, it can produce
a lot of dust and small particulates. Festool dust extractors are specially
made to keep your workspace clear while you're working and cut down on cleanup
time once the project is finished.
Hardwood Flooring
Installation and Maintenance from Jason Brown Wood Floors
At Jason Brown Wood Floors, our commitment to quality
installation is clear in all that we do, which is why our customers
consistently rate us as one of the top contractors in the region. We have been
awarded Baltimore Magazine's Best of Baltimore Award 4 times and have been
proudly serving the Baltimore Area for over 16 years. If you're ready to speak
with someone about your hardwood flooring project, we want to hear from you!
Contact us at 410-668-9131 or send us a message here.
Keep up with us on Facebook, Twitter, Pinterest, Houzz, and YouTube and check out our blog for more
news and information!