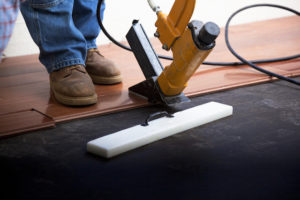 Whether you're replacing your existing hardwood or upgrading
from carpeting or laminate, installing hardwood flooring is NOT a DIY project.
No matter how "handy" you are, hardwood flooring installation is best
left to the professionals. Here are just a couple of reasons NOT to
install your hardwood flooring yourself.
Choosing the Best Options for Your Space
When shopping around for hardwood flooring, there are many
choices you will need to make. Do you want engineered planks or solid hardwood
flooring? There is also the hardness of the wood, shades and colors, direction
or pattern of the floor, and the finish you'd like to use. You will have many
options available for all of these things, and it can be difficult to navigate
through them all. By partnering with an experienced flooring contractor like
Jason Brown Wood Floors, you'll know that you will have the best available
options.
Getting Rid of Old Flooring
In order to install new flooring, the old flooring will have
to be taken out. If an inexperienced person performs the removal, you risk
damaging the sub-floor. Once it's all out, where does all that old flooring go?
Your professional flooring contractor will make sure the old flooring is
disposed of safely. Certain types of flooring can even be re-purposed for other
projects!
Festool Tools are Now Available from Jason Brown Wood Floors!
For over 90 years, Festool has
been crafting quality tools for all types of jobs, and those fantastic products
are now available from Jason Brown Wood Floors! Each week, we will feature a
different product on our blog so that you can learn more about them too!
Festool's abrasives can handle all of your grinding and
sanding needs. They have many different abrasive surfaces for whatever material
you may be working with. The tools themselves are also sized to be comfortable
and user friendly, even for working in tight spaces and around unusual angles.
Hardwood Flooring Installation and Maintenance from Jason Brown Wood Floors
At Jason Brown Wood Floors, our commitment to quality
installation is clear in all that we do, which is why our customers consistently
rate us as one of the top contractors in the region. We have been awarded
Baltimore Magazine's Best of Baltimore Award 4 times and have been proudly
serving the Baltimore Area for over 16 years. If you're ready to speak with
someone about your hardwood flooring project, we want to hear from you! Contact
us at 410-668-9131 or send us a message here.
Keep up with us on Facebook, Twitter, Pinterest, Houzz,
and YouTube and
check out our blog for more news and information!