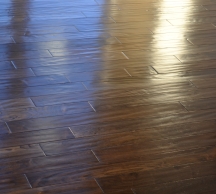 Everybody loves the beauty and shine of a new hardwood floor, but over time the shine fades. Most people assume that this
is because the polyurethane wears off but it is actually usually the result of
dirt and grime that normal washing doesn't get. Deep cleaning your wood floors
is the answer.
When Is It Time To Deep
Clean?
It's time to deep clean your wood floors when you find
that your normal cleaning methods just aren't cutting it. After you've washed
the floor like you normally do, you should be able to walk around on it in
white socks and have the socks not get dirty. If the socks get dirty after an
hour or two of walking on the "clean" floor, it is time for a deep clean.
What Is A Deep Clean?
Wood floors are usually covered with a polyurethane
coating that is impervious to water (as long as it cured correctly). However, over time, a coating of dirt, oil,
and grime can build up on the polyurethane layer. This rime grips the
polyurethane and is very hard to clean off. Deep cleaning achieves this, by
loosening the bond between that grime layer and the polyurethane layer and
washing the contaminants away.
Get The Right tools
In addition to the right cleaner, you also need a really
sturdy microfiber mop and several microfiber pads. Depending on how grimy the
floor is, you may have to go over the same area multiple times. A sturdy mop will allow you to really put the
force that you need to into the scrubbing. Your Swiffer will not cut it. Keep a
white cloth on hand to check sections for cleanliness as you go, and when
you're all done, buff the floor with a dry pad till it really shines.
Festool Tools are Now
Available from Jason Brown Wood Floors!
For over 90 years, Festool has been crafting quality tools for all types of jobs, and
those fantastic products are now available from Jason Brown Wood Floors! Each
week, we will feature a different product on our blog so that you can learn
more about them too!
When you're making cuts, you need them to stay straight.
No matter what material you're cutting through, Festool's guide systems and saw
accessories will help you make straight, clean cuts every single time.
Hardwood Flooring
Installation and Maintenance from Jason Brown Wood Floors
At Jason Brown Wood Floors, our commitment to quality
installation is clear in all that we do, which is why our customers
consistently rate us as one of the top contractors in the region. We have been
awarded Baltimore Magazine's Best of Baltimore Award 4 times and have been
proudly serving the Baltimore Area for over 16 years. If you're ready to speak
with someone about your hardwood flooring project, we want to hear from you!
Contact us at 410-668-9131 or send us a message here.
Keep
up with us on Facebook, Twitter, Google+, Pinterest, Houzz, and YouTube and check out our blog for more news and information!