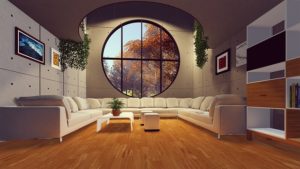 Choosing what kind of flooring your home has in it can be a
difficult choice. If you're sick of tile or wall to wall carpet, then it could
be time to make a change. The only question is, will you have bamboo, hardwood
flooring, or laminate? And if you choose hardwood, what species of wood will
you have? Let's find out.
Maple
You probably only think about maple when
you're trying to decide what syrup you would like on your pancakes. All the
same, maple is a popular choice for hardwood floors. The grain pattern is
extremely subtle, allowing it to pair well with almost any space that you want
to add it to; even in high-traffic areas. That's how you know how durable maple
really is.
Rosewood
Rosewood also has a striking grain pattern.
One of the most distinctive features of rosewood is that you can have it come
in different colors as drastically far apart as yellow and purple. Although
rosewood has been used for furniture building for centuries, it has only just
recently become a popular material for flooring in homes across the country.
Walnut
When you are worried about the durability of
your new hardwood floors, then the choice is clear. In this
case, you should pick walnut. That's because it is one of the hardest woods on
the Janka scale and can last no matter how much damage it takes.
Cherry
Although cherry wood used for hardwood
flooring isn't as strong as Brazilian cherry, that doesn't mean it isn't worth
the investment. It can make any room more elegant, but the downside is that it
is somewhat softer and can scratch more easily. You'll need to stay on top of
the refinishing process.
Festool Tools are Now Available
from Jason Brown Wood Floors!
For over 90 years, Festool has been crafting quality
tools for all types of jobs, and those fantastic products are now available
from Jason Brown Wood Floors! Each week, we will feature a different product on
our blog so that you can learn more about them too!
When you're making cuts, you
need them to stay straight. No matter what material you're cutting through,
Festool's guide systems and saw accessories will help you make straight, clean
cuts every single time.
Hardwood Flooring Installation
and Maintenance from Jason Brown Wood Floors
At Jason Brown Wood Floors,
our commitment to quality installation is clear in all that we do, which is why
our customers consistently rate us as one of the top contractors in the region.
We have been awarded Baltimore Magazine's Best of Baltimore Award 4 times and
have been proudly serving the Baltimore Area for over 16 years. If you're ready
to speak with someone about your hardwood flooring project, we want to hear
from you! Contact us at 410-668-9131 or send us a message here.