Working with Festool tools can make all the difference. Home improvement has to start somewhere, and you know that when you put your faith in the best tools, you can get the best job done. Here is more information about the edge banding tools that Festool has on offer.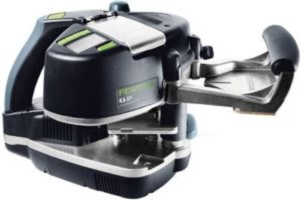 The Edge Bander
We have two types of edge bander for you to take advantage of; one is called the KA 65 Plus CONTURO and the other is called the Festool Edge Bander KA 65 Set Conturo. When you order the first type of edge bander, you get the front handle, along with the EVA adhesive you will need to do a cleaner job. You will also receive a natural 4 wt in SYSTAINER SYS-4 T-LOc. When you order the second edge bander, you also receive several other benefits. What are they? Let's have a look:
More affordable especially when compared to other edge banding tools.
Can band around curves, circles, convex, and concave radiuses and corners.
Electronic control gives it unmatched precision and adhesive distribution.
It's small enough to be easily transportable, and ergonomic enough to not take a toll on your wrists, neck, shoulders, and back.
You can also mount it on a table if needed.
Adhesives
Without adhesives, you won't be able to get the job done the way you know you can. There are several different types of adhesives that you can order from us. They are all part of the hot melt adhesive category. You can also find four colors: black, brown, natural, and white. The black adhesive works best for black decor; brown adhesive for brown decor; natural adhesive for natural wood-tone decor; and white for white decor.
Accessories
No job is complete without the right accessories. For your consideration, there are three types of bench units that make bench or table mounting much easier.
Festool Tools are Now Available from Jason Brown Wood Floors!
For over 90 years, Festool has been crafting quality tools for all types of jobs, and those fantastic products are now available from Jason Brown Wood Floors! Each week, we will feature a different product on our blog so that you can learn more about them too!
When you're making cuts, you need them to stay straight. No matter what material you're cutting through, Festool's guide systems and saw accessories will help you make straight, clean cuts every single time.
Hardwood Flooring Installation and Maintenance from Jason Brown Wood Floors
At Jason Brown Wood Floors, our commitment to quality installation is clear in all that we do, which is why our customers consistently rate us as one of the top contractors in the region. We have been awarded Baltimore Magazine's Best of Baltimore Award 4 times and have been proudly serving the Baltimore Area for over 16 years. If you're ready to speak with someone about your hardwood flooring project, we want to hear from you! Contact us at 410-668-9131 or send us a message here.